Pioneering operation to create an arteriovenous fistula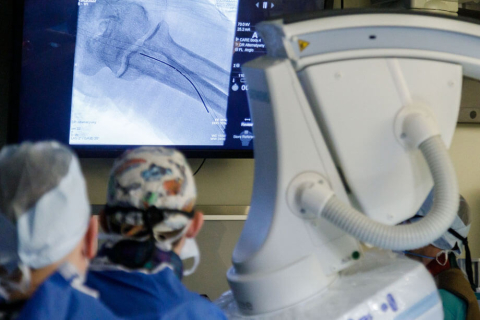 A team of doctors from the University Hospital of the Medical University of Warsaw (UCK WUM) performed an innovative procedure to create an arteriovenous fistula using an endovascular method. As pointed out in the university's announcement, this is the first such solution to be applied in Central and Eastern Europe. On April 12, the fistula was used to hemodialysis to be performed on the patient. The patient feels good.

The procedure was performed 2 months ago (February 15). The team consisted of radiologists, surgeons, anesthesiologists and nephrologists. The WUM specialists were supported by a world-renowned specialist in vascular and endovascular surgery, dr Tobias Steinke from the Schoen Clinic in Düsseldorf.
Image source: University Hospital of the Medical University of Warsaw

With the help of two very thin, flexible magnetic catheters, which were inserted into the ulna vein and the ulnar artery, the vessels were approximated and then with the help of radio frequency energy created a narrow opening between them. This resulted in increased arterial blood flow from artery to vein. This achieved arterialization of the superficial veins in the arm, which enabled safe cannulation and connection to the artificial kidney - explained Prof. Sławomir Nazarewski, Head of the Department of General, Vascular and Transplantation Surgery at the UCK WUM.

To provide permanent vascular access for the hemodialysis to create, previously had to classic surgical methods are applied. According to experts, the new method could become an alternative to such operations in the future.

The aforementioned hemodialysis procedure was developed under the supervision of Paweł Żebrowski, MD, PhD, from the Department of Nephrology, Dialysis Therapy and Internal Medicine at UCK WUM, and Urszula Jabłońska, a nephrology specialist and ward nurse at the dialysis station of the department.